PRESIDENTIAL ELECTIONS 2009
Presidential candidates hit campaign trail
Autor: Radio.net
Zadnja izmjena 21.12.2009 12:51
Objavljeno 21.12.2009 u 12:46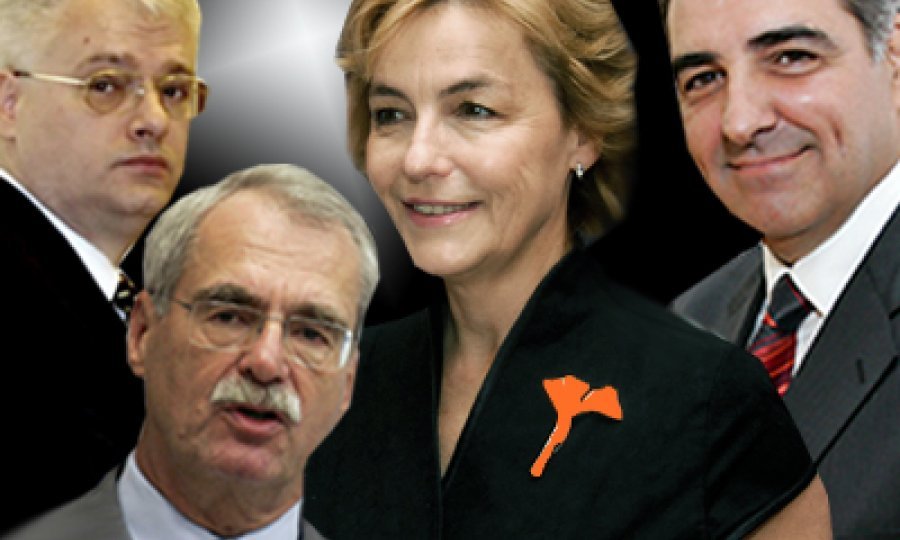 predsjednički kandidati ilustracija pusić vidošević josipović hebrang
Izvor: tportal.hr / Autor: Ilustracija: Mihaela Maras
This year's presidential election is a watershed for Croatia since the next president will be the one to take Croatia into the European Union, said Croatian Peoples Party's (HNS) presidential candidate, Vesna Pusić at an election rally in Split
"We have a chance to enter the EU as a star because we are a small country in a good position on which the stability of the whole Southeast Europe depends," she said, adding that among the region's countries, Croatia had made the biggest headway in "European reforms".
Pusic said there were no guarantees upon Croatia's accession to the EU, "as (accession) will cost us EUR 609 million in 2012 and EUR 647 million in 2013," but added accession offered a huge opportunity "for development and a takeoff that perhaps we have never had".
EU accession is an opportunity to draw HRK 26.5 billion for new jobs in those two years alone, she said, adding no one would give that money to Croatia and that Croatia could get it only "if we are capable of drawing it ... if we prepare ourselves and understand in which sector of the Croatian economy we want those jobs".
Pusic warned that due to lack of preparation, Croatia had already lost millions of euros from European funds, and that the presidential vote on December 27 and the January 10 runoff would resolve the dilemma of whether Croatia would use the chance it was being offered, "in order not to lose such a big encouragement for economic recovery".
Pusic said the time had come for Croatia "to put an end to the policy which, instead of knowledge, resorts to foul dealings and cunning". She advocated the decentralisation of the country, saying that "as much as 91 per cent of funds is centralised and only 9 per cent is set aside for municipalities and cities throughout Croatia".
Speaking to press after the rally, Pusic said HRK 2 million had been spent on her campaign so far.
The presidential candidate of the Social Democratic Party (SDP), Ivo Josipovic, today visited Pozega, saying, "The new fairness I advocate means, among other things, strengthening the state's social component".
He said many millions had been lost in various criminal activities and that the World Bank, too, had warned about this, claiming that more than HRK 12.5 billion was lost in Croatia per year due to corruption and crime.
"That's why the first thing I will tackle is corruption and organised crime ... There are also other tasks, such as the fight against poverty and the difficult situation Croatia is in," Josipovic said, adding that as president, he would pressure any government to do its utmost for Croatia's well-being, as well as some institutions that he said could contribute to making Croatia a better and more equitable country.
"I want to co-create and encourage reforms that are necessary not only for EU accession but even more for Croatia's citizens, who are bearing the brunt of this crisis, especially those with poorer incomes who feel this burden the most," he said.
Speaking at a rally in Pula, the Istrian Democratic Party's (IDS) presidential candidate, Damir Kajin, pledged that as president, he would insist on the arrest of those who had looted Croatia. "Only when Croatia is rid of them will it progress."
He said the shipbuilding industry was now, unfortunately, facing what the banking and telecommunications sectors faced before, with individuals getting richer at the expense of other citizens. He urged them "to stay away from Uljanik (shipyard)".
Kajin wondered if the incumbent government should be leading the country. "What is certain is that it is dragging us into an even deeper crisis, because next year will be even more difficult, something I have been warning about for three years," he said, adding he would share the fate of the population.
Speaking in Zagreb, independent presidential candidate Vesna Skare-Ozbolt voiced confidence that the upcoming election would not be decided by money but the candidates' ability to run the country.
She said that, unlike some other candidates, she did not have HRK 50 million for the campaign and that if she had that amount, she would not invest it in campaigning in times of economic crisis.
Speaking in Rijeka, independent candidate Dragan Primorac said the latest polls showed that he would win 15 per cent of the vote in the first election round and certainly be in the runoff.
He said influential persons in the US had told him the US would not invest any money in Croatia "unless people who personify corruption are replaced".
Primorac also advocated free tertiary education for students who comply with their obligations.
Independent presidential candidate Milan Bandic attended mass in Banja Luka, Bosnia-Herzegovina, meeting with local bishop Franjo Komarica and the vice president of Bosnia's Serb entity, Davor Cordas, and announcing he would help local Croats.
Bandic told press that as Croatia's president, he would work towards helping refugee returns and ensuring the equality of all three Bosnian peoples -- Croats, Serbs and Muslims.