HRVATSKIH TOP 10
Lovely Quinces ima najbolje izdanje 2013. godine
Autor: D. Jagatić
Zadnja izmjena 30.12.2013 09:48
Objavljeno 30.12.2013 u 09:48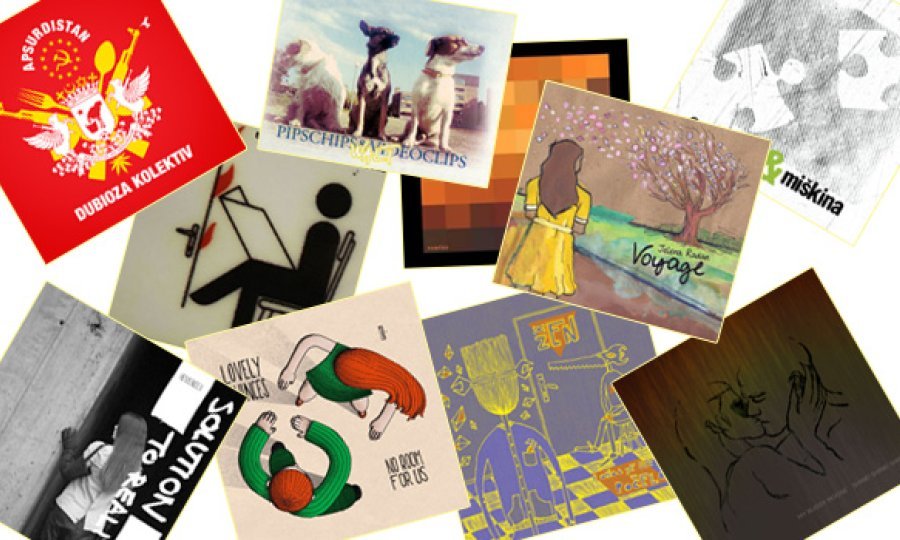 Top 10 hrvatskih izdanja
Izvor: Društvene mreže / Autor: Menart, Dan/Mrak, Dallas, Dancing Bear, Unrecords, Hemendex, Punčke, Lovely Quinces,Matija Habijanec,
U godišnjoj anketi tportala za izbor najboljih domaćih glazbenih izdanja, koju slažemo u suradnji s osobama koje profesionalne prate domaću rock scenu, prvo je mjesto pripalo EP-u 'No Room For Us' mlade splitske kantautorice Dunje Ercegović poznatije kao Lovely Quinces dok je u stopu prati album 'Walt' grupe PipsChips & VideoClips. Treće mjesto pripalo je grupi Overflow i njihovom albumu 'Overflow & Miškina'
Zamolili smo dvadesetak osoba koje profesionalno prate domaću glazbenu scenu da nam ove godine izdvoje 10 najboljih izdanja po svom mišljenju. Namjerno ne albume, već izdanja, jer se znatno povećala količina EP-a, ali još više zato što se omjer 'službeno' objavljenih albuma za registrirane diskografske kuće gotovo izjednačio sa samizdat izdanjima koje glazbenici sami objavljuju putem interneta. Dakle, deset izdanja objavljenih tijekom 2013. Uslijedili su očekivani prijedlozi kao npr. da ne treba prihvatiti EP kao izdanje jer nije fer prema glazbenicima koji su objavili albume. Da se domaća izdanja izmiješaju s izdanjima iz regije. Da je važno je li objavljeno za hrvatsku diskografsku kuću, do toga da je važno da je u pitanju hrvatski izvođač. U prijedlog su ušle i mnogobrojne kompilacije koje bi bilo nepravedno izostaviti. Tako je i jedan od prijedloga bio taj da treba izjednačiti domaću i inozemnu scenu jer je glazba, glazba, što zapravo i nije loša ideja. Dobra glazba nikada nije poznavala granice. Stoga doista nije važno je li nečiji EP, album ili kompilacija stvorena u Hrvatskoj, negdje u regiji u južnoj Americi, Rusiji ili u nekoj afričkoj državi. Ukratko, svatko od navedenih osoba, sastavio je top ljestvicu po slobodnom nahođenju.
Nažalost, diskografske kuće u Hrvatskoj odlučile su u zadnji čas, iz tko zna kojih razloga, u posljednjim danima 2013., objaviti čitan niz izdanja koja zapravo još nisu ni zaživjela do slaganja godišnje top ljestvice, niti su svi imali prilike preslušati sva ta izdanja. Tako je odličan novi album grupe Gatuzo 'Gdje idemo' ostao neopravdano nepreslušan, novi riječki bend Jonathan tek je zakoračio svojim fenomenalnim EP prvijencem na scenu, novi album grupe Boa nije ni dobio kakvu-takvu priliku; Dik'Obraz su se tek ovih dana pojavili s albumom koji gotovo nitko nije ni čuo, kao i čitav niz izdanja. Uzbudljiva godina u kojoj je trebalo potražiti izdanja koja su nas, nakon otkrivanja, jednostavno oduševila.
Najveći broj glasova pripao je mladoj splitskoj kantautorici Dunji Ercegović koja se predstavlja kao Lovely Quinces odnosnoj njezinom debi EP-u 'No Room For Us'. Prilično zasluženo ako uzmemo u obzir to da je ove godine svojim pojavljivanjem na sceni, svojim divnim glasom i jednako tako lijepim pjesmama malo koga ostavila ravnodušnim. Istovremeno, Dubravko Ivaniš i njegova grupa PipsChips & Videoclips, snimili su fenomenalan studijski album 'Walt' i zauzeli drugo mjesto. Treće je mjesto pripalo grupi Overflow i albumu 'Overflow & Miškina'. Njihov prvi album snimljen na hrvatskom jeziku, i to pjesmama Mihovila Pavleka Miškine. Iznenađenje koje je mnoge oduševilo. Dubioza kolektiv, čiji album 'Apsurdistan' je za hrvatsko tržište objavila diskografska kuća Menart, našao se na četvrtom mjestu, a peto je pripalo kantautoru Matiji Habijancu koji u javnosti nastupa sa svojim projektom odnosno pod imenom The Marshmallow Notebooks i istoimenom albumu objavljenom u vlastitom izdanju. My Buddy Moose s odličnim albumom 'Shine Shine Shine' dospio je na šesto mjesto. Sedmo je pripalo vinkovačkoj grupi Punčke koje će pamtiti ovu godinu po izdanju 'Sunčano s povremenom naoblakom' i odličnim prijemom debi albuma. Osmo je otišlo oproštajnom albumu 'Solution To Reality' elektro pop grupe Hemendex. Novookupljena grupa Žen i njihov album 'I onda je sve počelo', objavljen za austrijsku etiketu Unrecords dospio je za debi album na odlično deveto mjesto, a deseto je zauzela Jelena Radan s predivnim albumom 'Voyage' na kojem je otpjevala pjesme na hrvatskom, engleskom, francuskom i portugalskom jeziku.
Odmah iza prvih deset mjesta smjestili su se grupa Antenat s albumom 'Izlet', Chui s fenomenalnim drugim albumom 'The Second Arival', samozatajna grupa Izae s albumom 'Fragmentalni monokl gospodina Wolframa', Olovni ples s albumom 'Nulta godina' te Morso s albumom 'Škare krede najlon'. Odlična godina prepuna lijepih glazbenih iznenađenja i sve očitijih promjena u diskografskoj industriji odnosno u odnosu glazbenika/autora i publike. Kakva li će tek biti 2014.
Top 10 hrvatskih izdanja u 2013. godini:

1.Lovely Quinces 'No Room For Us'(samizdat EP)
2.PipsChips & Videoclips 'Walt' (Dan/Mrak LP)
3.Overflow 'Overflow & Miškina' (Dallas Records LP)
4.Dubioza Kolektiv 'Apsurdistan' (Menart LP)
5.The Marshmallow Notebooks ' The Marshmallow Notebooks' (samizdat LP)
6.My Buddy Moose 'Shine, Shine, Shine' (Dancing bear LP)
7.Punčke 'Sunčano s povremenom naoblakom' (samizdat LP)
8.Hemendex 'Solution to Reality' (samizdat LP)
9.Žen 'I onda je sve počelo' (Unrecords LP)
10.Jelena Radan 'Voyage' (Menart LP)

Zlatko Gall (Slobodna Dalmacija)
1.Dubioza kolektiv 'Apsurdistan' (Menart LP)
2 . My Buddy Moose 'Shine! Shine! Shine!' (Dancing Bear LP)
3 . Lovely Quinces 'No Room For Us' (samizdat EP)
4. Overflow 'Overflow & Miškina' (Dallas LP)
5. PipsChips & Videoclips ' Walt' (Dan/Mrak LP)
6. Gibonni '20th Century Man' (Dallas LP)
7. Vatra 'VT' (Dallas EP)
8. Chui 'The Second Arival' (Dancing bear LP)
9. Morso 'Škare krede najlon' (Dallas LP)
10. Kandžija 'Zlatne žbice' (Dallas LP)
Arsen Oremović (Večernji list)
1.Overflow 'Overflow i miškina' (Dallas LP)
Predrag Brlek (Terapija.net)
1.Hemendex 'Solution to Reality' (samizdat LP)
2.Punčke 'Sunčano s povremenom naoblakom' (samizdat)
3.The Marshmallow Notebooks 'The Marshmallow Notebooks' (samizdat)
4.Žen 'I onda je sve počelo' (Unrecords LP)
5.Radost 'Radost jede svoju djecu' (samizdat)
6.Trobecove krušne peći 'S mukom žvaču trubadurov vrat (Dirty Old Label LP)
7.Muscle Tribe of Danger and Excellence 'Eagles and Chainsaws' (samizdat LP)
8.Madrili 'Demencija' (Aquarius Records /Spona LP)
9.She Loves Pablo 'Burn and Levitate (Geenger Records LP)
10.Cripple and Casino 'With High Regards (Moonlee Records/Radio is Down LP)

Dražen Smaranduj (Potlista.com)
1.The Marshmallow Notebooks 'The Marshmallow Notebooks' (samizdat LP)
2.Marinada 'Za crne tipke i bijele zube' (Slušaj najglasnije LP)
3.Izae 'Fragmentalni monokl gospodina Wolframa' (samizdat LP)
4.Benchwarmers 'Define Success' (Noisy Night Records LP)
5.Hemendex 'Solution to Reality' (samizdat LP)
6.Punčke 'Sunčano s povremenom naoblakom' (samizdat LP)
7.Kid Rađa 'Sve šta đaku treba' (samizdat LP)
8.Lovely Quinces 'No Room For Us' (samizdat EP)
9.Jastreb 'Mother Europe' (samizdat LP)
10.Diktalog 'Sublunarij' (samizdat LP)
Hrvoje Magić (Radio student)
1.Žen 'I onda je sve počelo' (Unrecords LP)
2.PipsChips & Videoclips ' Walt' (Dan/Mrak LP)
3.Antenat 'Izlet' (Dirty Old Label/Kultura promjene LP)
4.Bistro na rubu šume Vol. 2 (samizdat kompilacija)
5.Radost 'Radost jede svoju djecu' (samizdat)
6.Leifert 'Leifert' (samizdat LP)
7.Punčke 'Sunčano s povremenom naoblakom' (samizdat LP)
8.Rokambol 'Zajedno' (Croatia Records LP)
9.Sara Renar 'Djeca' (Aquarius Records LP)
10.Cripple and Casino 'With High Regards (Moonlee Records/Radio is Down LP)
Ante Perković (Hrvatski radio 3. program)
1.Izae 'Fragmentalni monokl gospodina Wolframa' (samizdat LP)
2.PipsChips & Videoclips ' Walt' (Dan/Mrak LP)
3.Žen 'I onda je sve počelo' (Unrecords LP)
4.Hemendex 'Solution to Reality' (samizdat LP)
5.Punčke 'Sunčano s povremenom naoblakom' (samizdat LP)
6.The Marshmallow Notebooks 'The Marshmallow Notebooks' (samizdat LP)
7.Antenat 'Izlet' (Dirty Old Label/Kultura promjene LP)
8.Cojones 'Live I nJena/Black light' (samizdat LP)
9.ChocoJazz 'ChocoJazz' (samizdat LP)
10.Kiša metaka 'Kiša metaka' (samizdat LP)

Andrija Škare (Briljateen)
1.The Marshmallow Notebooks 'The Marshmallow Notebooks' (samizdat LP)
2.Benchwarmers 'Define Success' (Noisy Night Records LP)
3.Lovely Quinces 'No Room For Us' (samizdat EP)
4.Punčke 'Sunčano s povremenom naoblakom' (samizdat LP)
5.Lolita 'Lipstick Pop' (samizdat LP)
6.PipsChips & Videoclips ' Walt' (Dan/Mrak)
7.Kiša metaka 'Kiša metaka' (samizdat LP)
8.Rokambol 'Zajedno' (Croatia Records LP)
9.Kid Rađa 'Sve šta đaku treba' (samizdat LP)
10.Shoot Me Wendy 'Sine Waves' (Geenger Records LP)
Zoran Stajčić (Ravnododna.com)
1.PipsChips & Videoclips ' Walt' (Dan/Mrak LP)
2.Lovely Quinces 'No Room For Us' (samizdat EP)
3.My Buddy Moose 'Shine! Shine! Shine!' (Dancing Bear LP)
4.The Marshmallow Notebooks 'The Marshmallow Notebooks' (samizdat LP)
5.Chui 'The Second Arival' (Dancing bear LP)
6.Antenat 'Izlet' (Dirty Old Label/Kultura promjene LP)
7.Overflow 'Overflow & Miškina' (Dallas LP)
8.Dubioza kolektiv 'Apsurdistan' (Menart LP)
9.Olovni ples 'Nulti dan' (Croatia Records)
10.Punčke 'Sunčano s povremenom naoblakom' (samizdat LP)
Ela Radić (Rolling Stone, Hrvatska)
1.Lovely Quinces 'No Room For Us' (samizdat EP)
2.Hemendex 'Solution to Reality' (samizdat LP)
3.PipsChips & Videoclips ' Walt' (Dan/Mrak LP)
4.Overflow 'Overflow & Miškina' (Dallas LP)
5.Punčke 'Sunčano s povremenom naoblakom' (samizdat LP)

Denis Leskovar (Hrvatski radio)
1.PipsChips & Videoclips ' Walt' (Dan/Mrak LP)
2.Lovely Quinces 'No Room For Us' (samizdat EP)
3.My Buddy Moose 'Shine! Shine! Shine!' (Dancing Bear LP)
4.Overflow 'Overflow & Miškina' (Dallas LP)
5.Chui 'The Second Arival' (Dancing bear LP)
6.Punčke 'Sunčano s povremenom naoblakom' (samizdat LP)
7.Go No Go '2nd' (Geenger Records EP)
8.Zoran Predin 'Kosa boje srebra' (Aquarius Records LP)
9.Vlado Kreslin 'Umjesto koga roža sveti' (Dallas Records LP)
10. Gatuzo 'Gdje idemo' (Croatia Records LP)
Hrvoje Horvat (Muzika.hr)
1.Lovely Quinces 'No Room For Us' (samizdat EP)
2.Dubioza kolektiv 'Apsurdistan' (Menart LP)
3.Jelena Radan 'Voyage' (Menart LP)
4.Gatuzo 'Gdje idemo' (Croatia Records LP)
5.My Buddy Moose 'Shine! Shine! Shine!' (Dancing Bear LP)
6.Overflow 'Overflow & Miškina' (Dallas LP)
7.Zoran Predin 'Kosa boje srebra' (Aquarius Records LP)
8.Vlado Kreslin 'Umjesto koga roža cveti' (Dallas Records LP)
9.PipsChips & Videoclips ' Walt' (Dan/Mrak LP)
10.Elemental 'U redu je' (Menart LP)

Krešimir Blažević (Muzika.hr)
1.Lovely Quinces 'No Room For Us' (samizdat EP)
2.Overflow 'Overflow & Miškina' (Dallas LP)
3.Mayales '2' (Aquarius Records LP)
4.Jelena Radan 'Voyage' (Menart LP)
5.Pavel 'Od prve zvijezde ravno' (Menart LP)
6.Dubioza kolektiv 'Apsurdistan' (Menart LP)
7.Franolić Ćulap 'Bujrum' (Geenger Records LP)
8.PipsChips & Videoclips ' Walt' (Dan/Mrak LP)
9.Sara Renar 'Djeca' (Aquarius Records LP)
10.Elemental 'U redu je' (Menart LP)

Denis Murković (Radio 808.com)
1.Punčke 'Sunčano s povremenom naoblakom' (samizdat LP)
2.Elemental 'U redu je' (Menart LP)
3.PipsChips & Videoclips ' Walt' (Dan/Mrak LP)
4.Overflow 'Overflow & Miškina' (Dallas LP)
5.Antenat 'Izlet' (Dirty Old Label/Kultura promjene LP)
6.Lovely Quinces 'No Room For Us' (samizdat EP)
7.Hemendex 'Solution to Reality' (samizdat LP)
8.Bad Copy 'Krigle' (Mascom LP)
9.Dubioza kolektiv 'Apsurdistan' (Menart LP)
10.The Marshmallow Notebooks 'The Marshmallow Notebooks' (samizdat LP)
Maja Lovrić (Radio 101 – Cener)
1.Lovely Quinces 'No Room For Us' (samizdat EP)
2.Go No Go '2nd' (Geenger Records EP)
3.Olovni ples 'Nulti dan' (Croatia Records LP)
4.Ohnokono 'Ohnokono' (samizdat EP)
5.Morso 'Škare krede najlon' (Dallas LP)
6.Sheitans 'Dvica' (Dancing bear LP)
7.Mika Male 'Gdje se sastaju luđaci' (Dallas LP)
8.Overflow 'Overflow & Miškina' (Dallas LP)
9.Vatra 'VT' (Dallas EP)
10. S3ngs 'Costa S3ngsia' (OSA media LP)

Ilko Čulić (Express, Radio 808.com)
1.Punčke 'Sunčano s povremenom naoblakom' (samizdat LP)
2.PipsChips & Videoclips ' Walt' (Dan/Mrak LP)
3.Dubioza kolektiv 'Apsurdistan' (Menart LP)
4.Kid Rađa 'Sve šta đaku treba' (samizdat LP)
5.Petar Dundov 'Sailing Off The Grid' (Music Man)
6.Damir Avdić 'Human Reich' (Kapital)
7.Elemental 'U redu je' (Menart LP)
8.RenMan 'The Album… Krka ili Krkaspi' (Dallas LP)
9.Lovely Quinces 'No Room For Us' (samizdat EP)
10.Leifert 'Leifert' (samizdat LP)
Bojan Mušćet (Cantus)

1.Razni izvođači '1947. Hommage a Sergio Endrigo' (Menart, kompilacija)
2.My Buddy Moose 'Shine! Shine! Shine!' (Dancing Bear LP)
3.Gustafi 'Kanibalkanska' (samizdat)
4.Overflow 'Overflow & Miškina' (Dallas LP)
5.Morso 'Škare krede najlon' (Dallas LP)
6.Dubioza kolektiv 'Apsurdistan' (Menart LP)
7.Gatuzo 'Gdje idemo' (Croatia Records LP)
8.Jelena Radan 'Voyage' (Menart LP)
9.Let 2 'Punjeta' (Dallas LP)
10.Sara Renar 'Djeca' (Aquarius Records LP)

Aleksandar Dragaš (Jutarnji list, Hrvatski radio)
1.PipsChips & Videoclips ' Walt' (Dan/Mrak LP)
2.Dubioza kolektiv 'Apsurdistan' (Menart LP)
3.Overflow 'Overflow & Miškina' (Dallas LP)
4.Olovni ples 'Nulti dan' (Croatia Records LP)
5.Vlado Kreslin 'Umjesto koga roža cveti' (Dallas Records LP)
6.Punčke 'Sunčano s povremenom naoblakom' (samizdat LP)
7.Barbari 'Monfiorenzo Underground' (samizdat)
8.Lovely Quinces 'No Room For Us' (samizdat EP)
9.My Buddy Moose 'Shine! Shine! Shine!' (Dancing Bear LP)
10.Miroslav Tadić 'Mirina' (Croatia Records LP)

Anđelo Jurkas (Net.hr)
1.Damir Avdić 'Human Reich' (Kapital)
2.Lovely Quinces 'No Room For Us' (samizdat EP)
3.Overflow 'Overflow & Miškina' (Dallas LP)
4.The Marshmallow Notebooks 'The Marshmallow Notebooks' (samizdat LP)
5.PipsChips & Videoclips ' Walt' (Dan/Mrak LP)
6.Jelena Radan 'Voyage' (Menart LP)
7.Miki Solus 'Mratv je Johnny/Smrt je romantična' (samizdat)
8.Gatuzo 'Gjde idemo' (Croatia Records)
9.Barbari 'Monfiorenzo Underground' (samizdat)
10.Punčke 'Sunčano s povremenom naoblakom' (samizdat LP)

Dragutin Andrić (Soundguardian.com)
1.Overflow 'Overflow & Miškina' (Dallas LP)
2.Jelena Radan 'Voyage' (Menart LP)
3.Miroslav Evačić 'N.E.W.S. Blues' (Croatia Records LP)
4.Punčke 'Sunčano s povremenom naoblakom' (samizdat LP)
5.Damir Halilić – Hal 'Mare Nostrum' (Croatia Records LP)
6.Lovely Quinces 'No Room For Us' (samizdat EP)
7.My Buddy Moose 'Shine! Shine! Shine!' (Dancing Bear LP)
8.PipsChips & Videoclips ' Walt' (Dan/Mrak LP)
9.Razni izvođači '1947. Hommage a Sergio Endrigo' (Menart, kompilacija)
10.Sara Renar 'Djeca' (Aquarius Records LP)

Dubravko Jagatić (Tportal.hr, Novosti)
1.Overflow 'Overflow & Miškina' (Dallas LP)
2.Žen 'I onda je sve počelo' (Unrecords LP)
3.Jonathan 'Jonathan' (samizdat EP)
4.Muscle Tribe of Danger and Excellence 'Eagles and Chainsaws' (samizdat LP)
5.PipsChips & Videoclips ' Walt' (Dan/Mrak LP)
6.Lovely Quinces 'No Room For Us' (samizdat EP)
7.Chui 'The Second Arival' (Dancing bear LP)
8.Ohnokono 'Ohnokono' (samizdat EP)
9.Jelena Radan 'Voyage' (Menart LP)
10.Punčke 'Sunčano s povremenom naoblakom' (samizdat LP)