Victory Day
Ceremonies in observance of Victory Day start in Knin
Autor: Radio.net
Zadnja izmjena 05.08.2012 13:46
Objavljeno 05.08.2012 u 13:41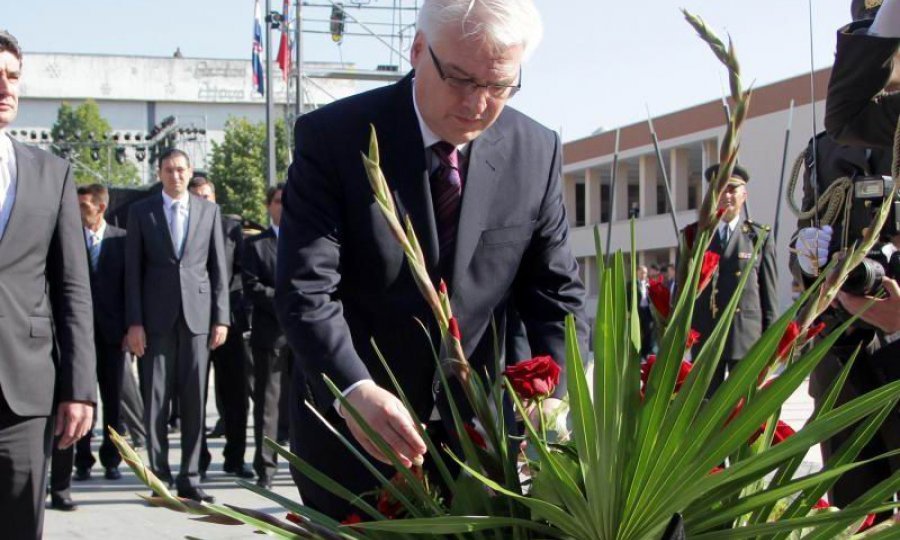 Presjednik Ivo Josipović polaže vijenac ispred spomenika Hrvatske pobjede
Izvor: Pixsell PXL Agencije / Autor: Dusko Jaramazl/PIXSELL
The central ceremonies in observance of Victory and Homeland Thanksgiving Day and Homeland War Veterans' Day on 5 August began in the southern town of Knin on Sunday morning with the ceremony of hoisting Croatia's flag at the town fortress.
The state flag was raised by two servicemen who participated in Operation Storm 17 years ago when Croatia's forces liberated southern and central areas of Croatia held by rebel Serbs since 1990.
In attendance were Croatia's top officials including President Ivo Josipovic, the acting Parliament Speaker Josip Leko, Prime Minister Zoran Milanovic, the armed forces' chief-of-staff General Drago Lovric and other senior officials and political parties' leaders.
Church bells rang at 0943 hrs in remembrance of the exact time when Croatian defenders entered Knin 17 years ago,
Croatia's Air Force aircraft performed an aerobatics in the skies over Knin.
Members of the association of the special police veterans who arrived at the Knin Fortress for ceremonies carried a photo of General Mladen Markac, who has been sentenced by the trial chamber of the UN tribunal to 18 years for war crimes, and who is waiting for the outcome of the appellate proceedings before the International Criminal Tribunal for the former Yugoslavia (ICTY in The Hague,
The association's leader Josip Klemm told reporters that Markac had been their commander and they would never forget him.
"We are proud of General Markac and we will never lose our faith in him," Klemm said.
The ceremonies will continue with the address of President Josipovic to participants who will gather in Knin's main square, and a mass in memory of that liberating operation will be said in the local church.
Pratite nas na društvenim mrežama: